Ad blocker interference detected!
Wikia is a free-to-use site that makes money from advertising. We have a modified experience for viewers using ad blockers

Wikia is not accessible if you've made further modifications. Remove the custom ad blocker rule(s) and the page will load as expected.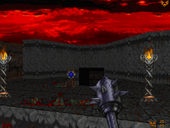 The
Amulet of Warding
is an item in
Hexen
that increases your character's
armor
class. Its appearance is that of a necklace with a leather strap and with a blue gem set in silver. The
Fighter
receives 1 point of armor, the
Cleric
receives 4, and the
Mage
receives 5.
Trivia
In this context, "warding" refers to guarding, repelling, or a defensive enchantment. It comes from the Old English "weardian", which means to guard.

See also