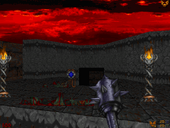 The
Amulet of Warding
is an item in
Hexen
that increases your character's
armor
class. Its appearance is that of a necklace with a leather strap and with a blue gem set in silver. The
Fighter
receives 1 point of armor, the
Cleric
receives 4, and the
Mage
receives 5.
Trivia
In this context, "warding" refers to guarding, repelling, or a defensive enchantment.  

See also
Ad blocker interference detected!
Wikia is a free-to-use site that makes money from advertising. We have a modified experience for viewers using ad blockers

Wikia is not accessible if you've made further modifications. Remove the custom ad blocker rule(s) and the page will load as expected.