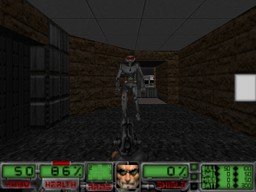 Androids are enemies from Hacx. They are tall robots with a tazer implanted on the upper side of their body.
They are one of the most common enemies in the game. They are fairly easy to kill, having only 75 hit points, however they can be a threat when they are in big numbers. They will drop a tazer when killed. They also have a gib death when they are killed by high-damaging weapons such as the nuker.
Ad blocker interference detected!
Wikia is a free-to-use site that makes money from advertising. We have a modified experience for viewers using ad blockers

Wikia is not accessible if you've made further modifications. Remove the custom ad blocker rule(s) and the page will load as expected.