For the lore term, see Argent plasma.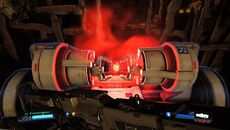 An Argent Energy Cell is a collectible item in Doom (2016). These consists of white chests with small glass spheres containing volatile plasma energy.
When collected, the player gains an additional attribute point to be spent on one of the three attributes. Each level has at least one or two Argent energy cells, sometimes hidden.
Ad blocker interference detected!
Wikia is a free-to-use site that makes money from advertising. We have a modified experience for viewers using ad blockers

Wikia is not accessible if you've made further modifications. Remove the custom ad blocker rule(s) and the page will load as expected.