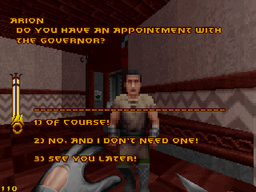 Arion appears in Strife in the Governor's Mansion, near the lift to the Governor's Office. He is obviously an aide to the Governor (presumably Mourel's private secretary), since if you talk to him he demands to know if you have an appointment (implying that he is the one in charge of the Governor's affairs); however, he has no effect whatever on the plot, thus can safely be ignored.
SPOILER WARNING: Plot details follow.
After a conversation with Arion, the player can choose to kill him for 10 gold that he drops in the Registered Version.
Spoilers end here.
Ad blocker interference detected!
Wikia is a free-to-use site that makes money from advertising. We have a modified experience for viewers using ad blockers

Wikia is not accessible if you've made further modifications. Remove the custom ad blocker rule(s) and the page will load as expected.