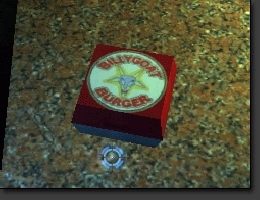 Billygoat is a fast food brand on Mars, known to serve hamburgers. Its logo features what seems to be a pentagram, and could be a reference to the Icon of Sin, the final boss of Doom II: Hell on Earth. The appearance of the goat's head in the pentagram is more reminiscent of the sigil of Baphomet, as associated with Satanism, and a symbol used by the Knights of the Templar for protective/warning uses.
Ad blocker interference detected!
Wikia is a free-to-use site that makes money from advertising. We have a modified experience for viewers using ad blockers

Wikia is not accessible if you've made further modifications. Remove the custom ad blocker rule(s) and the page will load as expected.