The
Boots of Speed
is an artifact from
Hexen
.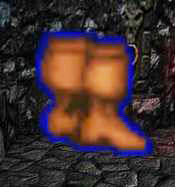 When a player uses them, they will run at twice their normal speed, and also leave behind afterimages of the character that the player is using. Curiously, if the mage is moving using the Boots of Speed, the Frost Shards projectiles may damage the mage instead of firing outward.
With the vanilla Hexen engine, the afterimages could be seen by running backwards, but they cannot be seen in ZDoom unless in chasecam mode.
Ad blocker interference detected!
Wikia is a free-to-use site that makes money from advertising. We have a modified experience for viewers using ad blockers

Wikia is not accessible if you've made further modifications. Remove the custom ad blocker rule(s) and the page will load as expected.