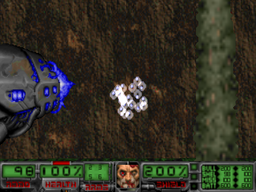 The cryogun is a weapon from the game Hacx. It is a (presumably) shoulder-mounted ice cannon with a special aiming system. It is almost as fast as the tazer, but it does much more damage, and is generally compared to the Doom super shotgun for the damage done.
The power of this weapon makes it one of the most essential weapons in the game. It is strong and fast enough to take care of most (if not all) the enemies that appear in the game. However, this also means it requires a lot of ammo.
It uses the same type of ammunition as the tazer, cartridges.
Ad blocker interference detected!
Wikia is a free-to-use site that makes money from advertising. We have a modified experience for viewers using ad blockers

Wikia is not accessible if you've made further modifications. Remove the custom ad blocker rule(s) and the page will load as expected.