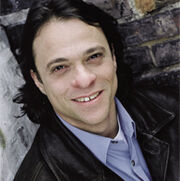 David Kushner is a writer who has contributed to magazines like The New York Times, Spin, Salon and Technology Review. In addition he is a contributing editor at Rolling Stone, Wired and IEEE Spectrum. From 1994 to 1996 he also worked as a senior producer and writer on the SonicNet website. The first edition of his book, Masters of Doom, was published in 2003.
External links
Ad blocker interference detected!
Wikia is a free-to-use site that makes money from advertising. We have a modified experience for viewers using ad blockers

Wikia is not accessible if you've made further modifications. Remove the custom ad blocker rule(s) and the page will load as expected.