Ad blocker interference detected!
Wikia is a free-to-use site that makes money from advertising. We have a modified experience for viewers using ad blockers

Wikia is not accessible if you've made further modifications. Remove the custom ad blocker rule(s) and the page will load as expected.
Deus Vult is a four level WAD created by Huy "Doom Marine" Pham. The WAD is extremely hard, in the style of Hell Revealed but with more detailed levels.
Levels
File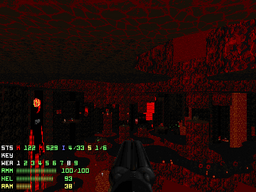 Deus Vult is contained in a zip file called dv.zip. It is 6,346,017 bytes in size and contains 24 files, with a full set of Ultra-Violence demos (for PrBoom and ZDoom):
| | |
| --- | --- |
| Size | Name |
| 218738 | PRBoom 2.2.4 Demos/DV01-UVMAX2.lmp |
| 1788 | PRBoom 2.2.4 Demos/DV01-UVMAX2.txt |
| 552158 | PRBoom 2.2.4 Demos/DV02-UVMAX2.lmp |
| 2964 | PRBoom 2.2.4 Demos/DV02-UVMAX2.txt |
| 147194 | PRBoom 2.2.4 Demos/DV03-UVMAX2.lmp |
| 2856 | PRBoom 2.2.4 Demos/DV03-UVMAX2.txt |
| 366574 | PRBoom 2.2.4 Demos/DV04-UVMAX2.lmp |
| 5196 | PRBoom 2.2.4 Demos/DV04-UVMAX2.txt |
| 112606 | PRBoom 2.2.4 Demos/DV04-UVMAX3.lmp |
| 2889 | PRBoom 2.2.4 Demos/DV04-UVMAX3.txt |
| 50802 | ZDoom 2.0.63 Demos/DV01-UVMAX1.lmp |
| 3124 | ZDoom 2.0.63 Demos/DV01-UVMAX1.txt |
| 12756 | ZDoom 2.0.63 Demos/DV02-UV-DRUNKENRETARDED.lmp |
| 412 | ZDoom 2.0.63 Demos/DV02-UV-DRUNKENRETARDED.txt |
| 19184 | ZDoom 2.0.63 Demos/DV02-UVMAX1.lmp |
| 2072 | ZDoom 2.0.63 Demos/DV02-UVMAX1.txt |
| 61336 | ZDoom 2.0.63 Demos/DV03-UVMAX1.lmp |
| 2902 | ZDoom 2.0.63 Demos/DV03-UVMAX1.txt |
| 11898 | ZDoom 2.0.63 Demos/DV04-UVMAX1.lmp |
| 2663 | ZDoom 2.0.63 Demos/DV04-UVMAX1.txt |
| 1089 | ZDoom 2.0.63 Demos/The Last Word.txt |
| 164 | 05-25-2004.txt |
| 15579841 | DV.wad |
| 13641 | DV.txt |
It has the following hashes:
| | |
| --- | --- |
| MD5 | b681dd6e9533a425e72c6d038b7f4193 |
| SHA-1 | dbb2a3810554537c3cee92f26a44308bc9a17ceb |
| CRC32 | 8de4aee3 |
External link