Doom 3: The Lost Mission
Talk

0
2,844pages on
this wiki
D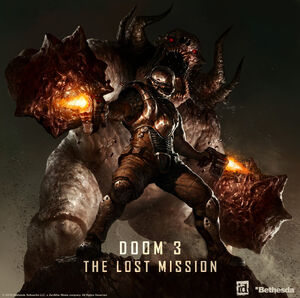 oom 3: The Lost Mission 
is an expansion pack for
Doom 3 released
along with
Doom 3: BFG Edition
on October 16, 2012. It was sold as an included bonus in BFG Edition for PC,
Xbox 360
and PlayStation 3 and is only available through purchasing the BFG Edition.
The Lost Mission is based on levels that were cut from the final Doom 3 game, hence its title.
Changes from Doom 3
Edit
The Lost Mission does not introduce any new weapons or monsters to the game. Instead, it re-uses content from both Doom 3 and Resurrection of Evil excluding Lost Souls (which are replaced by Forgotten Ones as they are in Resurrection of Evil), the Cyberdemon, Vulgars, Hell Hunters, the Maledict, the Soul Cube and the Artifact.
However, it does introduces BFG Edition's remastered visuals, as well as certain areas that appeared in Doom 3.
More will be added to this page over time.