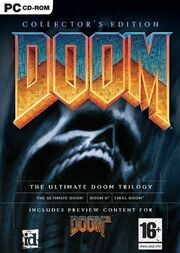 The Ultimate Doom Trilogy: Collector's Edition (also known simply as Doom Collector's Edition) is a commercially-sold compilation initially released on September 26, 2001. It includes the following three games:
The games come with the Doom95 executable. The original DOS executables are not included in the compilation, however.
The compilation was re-released on January 29, 2003. The re-release includes a trailer, screenshots, and other information regarding Doom 3 (which was later released on August 3, 2004).
External links
Ad blocker interference detected!
Wikia is a free-to-use site that makes money from advertising. We have a modified experience for viewers using ad blockers

Wikia is not accessible if you've made further modifications. Remove the custom ad blocker rule(s) and the page will load as expected.