'DOOM Eternal' – Official E3 Teaser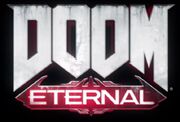 Doom Eternal is an upcoming sequel to Doom. It takes place on Earth, with the forces of Hell having overrun it.[1] It has been stated that it will have "twice as many" demons as its predecessor.[2]
More of the game will be shown at QuakeCon 2018.[3]
Gameplay
Plot
Enemies
The following enemies have appeared in the game's teaser trailer, but whether these enemies will appear in the actual game is yet to be confirmed:
Imp
Cacodemon
Revenant
Baron of Hell
Pain Elemental
Arch-Vile
Arachnotron
Video
References