'DOOM Eternal' – Official E3 Teaser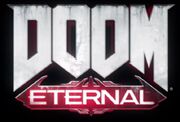 Doom Eternal is an upcoming sequel to Doom. The game will launch in 2019 for PlayStation 4, Xbox One, Nintendo Switch and PC.
Gameplay
A new feature added is the ability to invade another player's game, in a system called "Invasion." Invading players can team up and spawn in a player's single-player playthrough as enemies.
The Doom Slayer is now equipped with a shoulder cannon on his left, which can be used to fire grenades or a burst of flame. It operates on a cooldown.
There is an increased focus on mobility in the game. The Doom Slayer gains a grappling hook (via the Super Shotgun), the ability to perform short boosts along the ground, and swing from poles. Two boosts can be used at a time before having to recharge.
Gun modifications return from the previous game.
A new feature is an extra life system. This has been designed as an augment to the checkpoint system, where players can get a respawn without having to go back to the last checkpoint.[1]
Plot
It takes place on Earth, with the forces of Hell having overrun it.[2] Other locations have been revealed, such as a human base on Phobos, new regions of Hell, and previously unseen locations within the franchise. The developers tease that the game will feature a more in-depth lore of the Doom universe.[1]
Monsters
The game is said to contain twice as much enemies than in Doom. In the gameplay footage shown at QuakeCon 2018, the following demons have been revealed:
Weapons
There is a whole new arsenal of weapons that the Doom Slayer may use, this includes:
Trivia
The game is called "Doom Eternal" rather than "Doom II" in order to avoid confusion with the actual Doom II. Simiarly, it earned the name "Doom Eternal" in order to save people having to refer to it as "Doom 2019."[1][1]
Video
References