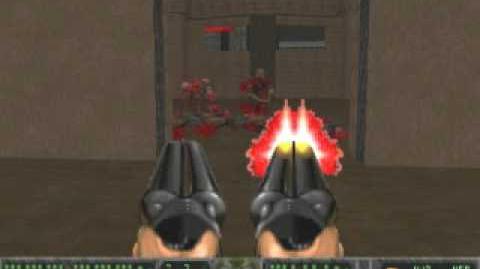 Doom II X-Treme, D2X-Treme, or simply D2X is a 32-level Doom 2 game created on August 12, 1996. It replaces all
monsters
,
weapons
and
levels
, and uses a
DeHackEd
patch.
Weapons
Fists
Deathclaw
Pistols
Riot shotgun
Dual sawed-off shotgun
Highspeed chaingun
Electro-magnetic railgun
Flame thrower
Power Force Blaster
Levels
System Control
Well of Souls
The Gantlet
Wormhole
Impossible mission
Open Season
Dead Simple
Realm
Stronghold
Onslaught
Hunted
The factory
The crypt
Genesis
Dead Zone
Deepest reaches
Compund
Neurosphere
The Citadel
The death domain
Slayer
The Catacombs
Tombstone
Quarry
Bloodfalls
Ballistyx
Anti-Christ
Heck
Odyssey of Noises
Last Call
Secret* Cyberden
Top Secret* Redemption
Ad blocker interference detected!
Wikia is a free-to-use site that makes money from advertising. We have a modified experience for viewers using ad blockers

Wikia is not accessible if you've made further modifications. Remove the custom ad blocker rule(s) and the page will load as expected.