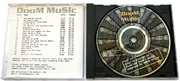 On May 1, 1997 Robert Prince released Doom Music, an album with various remixed versions of a selection of music tracks from Doom and Doom II. The CD contain 20 tracks with a running time of 71 minutes 28 seconds. According to the text on the back, the tracks are arranged to fit for playing with Quake.
The remixed version of "At Doom's Gate" contains various sounds from Doom, i.e. weapon sounds, monsters roaring and death sounds.
Tracklist
See also
External links
Ad blocker interference detected!
Wikia is a free-to-use site that makes money from advertising. We have a modified experience for viewers using ad blockers

Wikia is not accessible if you've made further modifications. Remove the custom ad blocker rule(s) and the page will load as expected.