The Dragonskin Bracers are a powerup in Hexen. When used, they temporarily grant the player an additional four points to their Armor Class.
In terms of game mechanics, it adds +1 point of Armor Class to each of the four pieces of armor in the Hexen character's inventory (1 each to the Amulet of Warding, Platinum Helm, Falcon Shield and Mesh Armor), for a total of +4 Armor Class.
If the player does not have one or more of the four armor pieces, a "temporary" piece(s) will be created with 1 AC on it, that can actually be seen in the Inventory screen. This temporary piece will disappear when the effects of the Dragonskin Bracers expires.
If used in other games in ZDoom and its derivatives, the player is granted 50 armor points.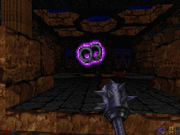 Ad blocker interference detected!
Wikia is a free-to-use site that makes money from advertising. We have a modified experience for viewers using ad blockers

Wikia is not accessible if you've made further modifications. Remove the custom ad blocker rule(s) and the page will load as expected.