This level occupies the map slot E2M1. For other maps which occupy this slot, see Category:E2M1.
E2M1: Kansam's Legacy is the first map of Kansam's Trial. It was designed by Kansam and uses the music track " ".
Strategy
[[Image: |thumb|300px|Map of **]]

Walkthrough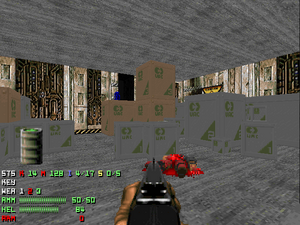 Secrets
The first secret (sector #31) is in the blue room, between the entry door and the hole in the ceiling. You can get here the plasma gun, that fires "ni!" plasma.
The second secret (sector #71) is north-west in the crate room, from the top of the north crate, open the wall and reveal a soulsphere.
The third secret (sector #21) is behind a door on the north of the first dark mazy section. You can find here lots of good stuff.
The fourth secret (sector #87) is in the second dark mazy section, you can see a yellowish tech wall, open it and grab the backpack.
The last secret (sector #89) is on the bottom right of the fourth secret, grab cells and the light amplification visor.
Speedrunning
Routes and tricks
Records
The Compet-N records for the map are:
Statistics
Map data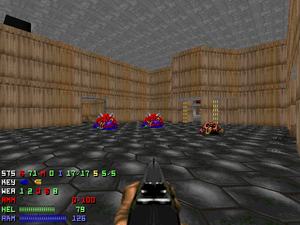 Things
Trivia
See also
External links
Ad blocker interference detected!
Wikia is a free-to-use site that makes money from advertising. We have a modified experience for viewers using ad blockers

Wikia is not accessible if you've made further modifications. Remove the custom ad blocker rule(s) and the page will load as expected.