E4M7: And Hell Followed (Doom)
Talk

1
This level occupies the map slot E4M7. For other maps which occupy this slot, see Category:E4M7.
E4M7: And Hell Followed is the seventh map of Thy Flesh Consumed in Doom. It was designed by John Anderson and uses the music track "Sinister."
Unlike the previous levels from Inferno and the rest of Thy Flesh Consumed, which are largely demonic locations, this level appears to be a UAC locale. Similar to The Shores of Hell levels, it is designed with techbase textures, with alterations or additions of hellish origin.
John Anderson originally titled the level CHIRON.WAD.[1]
The map title comes from Revelation 6:8: "And I looked, and behold a pale horse: and his name that sat on him was Death, and hell followed with him."[2]
The level is considered relatively easy compared to the rest of the levels in the episode. Due to the lower difficulty many players can beat the map without much trouble on Ultra-Violence, even from a pistol start - unlike most other Thy Flesh Consumed levels.
It is not necessary to get the blue or yellow keys in order to complete the level; the blue key is needed only to get the yellow key, the yellow key is needed only to access the secrets.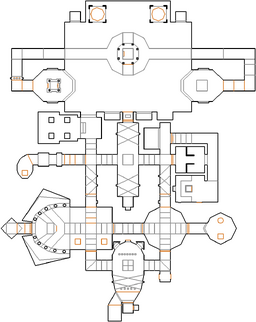 Walkthrough
Edit
1. Open the wall to the south in the ovoid room in the south of the map. There are several goodies to help you defeat the Baron of Hell (easy/medium) or Cyberdemon (hard) that teleports in.
2. Flipping the skull switch directly across from secret 1 opens a secret room in the stairway to the east.
3 & 4. Open the left wall inside secret 1 to reveal an invulnerability sphere. The sector it rests on counts as a secret, but due to its height it cannot be reached by normal means, and thus must be triggered by turning clipping off and walking over it or by jumping onto it (in certain source ports). The door that opens into secret 3 also counts as a secret sector, but because of its thinness it's also impossible to trigger it normally. The only way to register it is by walking over it in noclip mode.
Other Points Of Interest
Edit
The two skull switches in secret #2 open the two doors leading to this area, even though you can open these doors manually.
The switch that raises the final bridge doesn't animate when flipped.
Speedrunning
Edit
Routes and tricks
Edit
The Compet-N records for the map are:
Statistics
Edit
References
Edit
External links
Edit