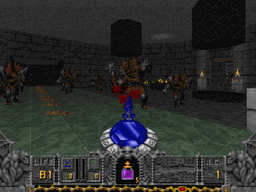 Ettins are enemies in Hexen.
They are two-headed monsters outfitted with armor and maces, the mutated remains of the Legion's soldiers, and are essentially the lowest tier of monster and very straightforward to kill, even with 175 Hit points. Ettins are the most common enemy in the game, found in every single stage. and are the first encountered. In addition, they spawn randomly (about one per minute?) as long as the player is on a given map. Their melee attacks consist of mace swings; however, these only cause a small amount of damage and are easily dodged by the player. They gib when they take too much damage or get killed by the Quietus, Wraithverge, or Bloodscourge weapons or the Mage's exploding Flechette
Ad blocker interference detected!
Wikia is a free-to-use site that makes money from advertising. We have a modified experience for viewers using ad blockers

Wikia is not accessible if you've made further modifications. Remove the custom ad blocker rule(s) and the page will load as expected.