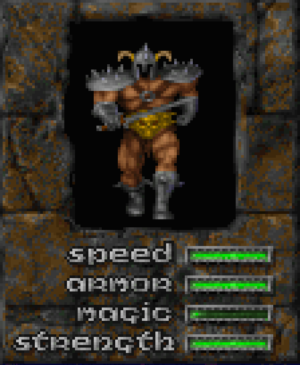 Baratus the Fighter
is one of the three playable hero classes in
Hexen
. He is a tall, muscular man that wears a horned helm, metallic shoulderpads, gauntlets and boots, and a quite large, golden belt with a skull engraved on it. All of his armor pieces have deadly spikes on them. Baratus posseses the highest speed, armor and strength of the three classes, meaning he moves faster, can wear the most armor, and his attacks consist of a more physically use of his body than the other two characters. His rough physical training has obviously left him little time to study the arcane arts, meaning he has the least magical ability of the three. Baratus emphasizes melee attacks and uses less
mana
on average.
The fighter is by far the most straightforward class to play in the game, requiring little strategy overall, and thus being the easiest class to master gameplay with. You just have to worry about one thing when playing the fighter: get close enough to kill your enemies. The only weakness the fighter may show off is when facing ranged attacking enemies; this forces the player to close distance quickly but carefully at the same time. However, this weakness can be practically neutralized once he gets his third weapon, which lets him make powerful, ranged attacks. That, of course, given he has the sufficient amount of mana to do so.
Baratus' armor
Baratus' default number of armor is 3, and is also his minimum; it cannot drop below that, no matter how much damage is taken. Baratus benefits from armor pieces in the following way:
With his minimum armor and all the four extra pieces, Baratus has a total of 16 armor points; however, his maximum is 20. If the 20 armor points are desired, the four armor parts and the use of Dragonskin Bracers are required.
Baratus' weapons
See also
Ad blocker interference detected!
Wikia is a free-to-use site that makes money from advertising. We have a modified experience for viewers using ad blockers

Wikia is not accessible if you've made further modifications. Remove the custom ad blocker rule(s) and the page will load as expected.