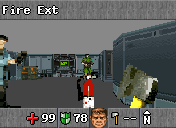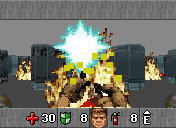 The fire extinguisher appears only in the Doom RPG. Its primary use is to put out fires. However, it is also useful against the Archvile and Lost Soul classes due to their fiery nature. It uses Halon canisters as "ammunition".
Ad blocker interference detected!
Wikia is a free-to-use site that makes money from advertising. We have a modified experience for viewers using ad blockers

Wikia is not accessible if you've made further modifications. Remove the custom ad blocker rule(s) and the page will load as expected.