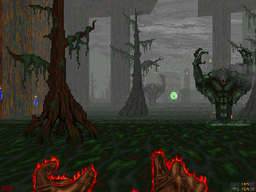 Firestorm is the Cleric's third weapon from Hexen. It is a spell which launches a streak of flame directly ahead of the player. If it comes into contact with a monster it will explode and spawn a small ring of flames that rotate around the point of impact, which will detonate upon contact with an obstacle or wall, heavily damaging the target and any other monsters within a short radius. Its icon is a spinning eight-pointed iron cross with a flame shooting upward. The spell uses four Green Mana per shot.
Ad blocker interference detected!
Wikia is a free-to-use site that makes money from advertising. We have a modified experience for viewers using ad blockers

Wikia is not accessible if you've made further modifications. Remove the custom ad blocker rule(s) and the page will load as expected.