This article is about the weapon in Doom 2016. For the weapon in Doom 3, see Fist (Doom 3). For the weapon in the original Doom games see Fist.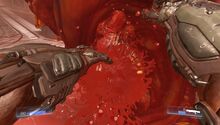 The Fist is the basic unarmed weapon in Doom. Unlike previous games the fists cannot be selected for individual use, however players get a chance to use them when acquiring the Berserk power up.
Tactical analysis
Fists are very useful in close melee attacks, they can rip enemies open, crush their heads, or brutally murder them in any way.
Ad blocker interference detected!
Wikia is a free-to-use site that makes money from advertising. We have a modified experience for viewers using ad blockers

Wikia is not accessible if you've made further modifications. Remove the custom ad blocker rule(s) and the page will load as expected.