Ad blocker interference detected!
Wikia is a free-to-use site that makes money from advertising. We have a modified experience for viewers using ad blockers

Wikia is not accessible if you've made further modifications. Remove the custom ad blocker rule(s) and the page will load as expected.
All the music in Heretic was created by Kevin Schilder of Raven Software. As expected by the fantasy setting of the game compared to Doom's more science fiction setting, the music is a very different style to Doom's.
Heretic's soundtrack is more ambient and has different instruments with more drums and harps as well as what sounds like a choir singing various "ah" sounds in fluid rhythm.
| Track name | Levels | Lump | Notes |
| --- | --- | --- | --- |
| | E1M1, E3M1, E4M6 | MUS_E1M1 | |
| | E1M2, E3M6, E4M2 | MUS_E1M2 | |
| | E1M3, E3M5, E4M3 | MUS_E1M3 | |
| | E1M4, E2M5, E4M4, E5M5 | MUS_E1M4 | |
| | E1M5, E3M7, E4M5 | MUS_E1M5 | |
| | E1M6, E3M4, E4M1, E6M3 | MUS_E1M6 | |
| | E1M7, E4M7 | MUS_E1M7 | |
| | E1M8, E4M8 | MUS_E1M8 | |
| | E1M9, E3M8, E4M9 | MUS_E1M9 | |
| | E2M1, E5M1 | MUS_E2M1 | |
| | E2M2, E5M2 | MUS_E2M2 | |
| | E2M3, E5M3 | MUS_E2M3 | Kevin Schilder's original title for this track was "Bluroc"[1] |
| | E2M4, E5M4 | MUS_E2M4 | |
| | E2M6, E3M9, E5M6 | MUS_E2M6 | |
| | E2M7, E5M7 | MUS_E2M7 | |
| | E2M8, E5M8 | MUS_E2M8 | |
| | E2M9, E5M9 | MUS_E2M9 | |
| | E3M2, E6M1 | MUS_E3M2 | |
| | E3M3, E6M2 | MUS_E3M3 | |
| | Title music | MUS_TITL | |
| | Intermission music | MUS_INTR | |
| | Victory music | MUS_CPTD | |
Heretic full soundtrack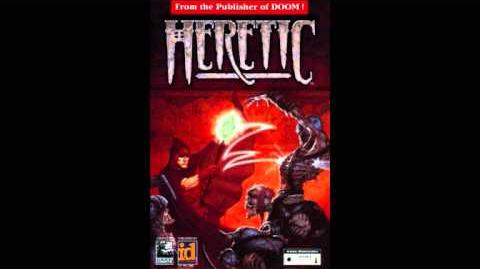 See also
References