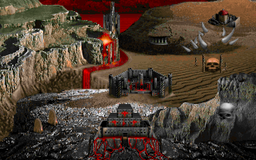 Inferno is the third episode in Doom/The Ultimate Doom. All of the levels in this episode are credited to Sandy Petersen, though Tom Hall originally began two of them.
This episode is set in Hell, possibly the inner region of Hell. The episode is apparently named after Inferno, part of Dante Alighieri's Divine Comedy. "Inferno" also means "hell" in several languages. Most of these levels have a main, center room that can be easily identified, usually circular or square in shape.
Levels
Speedrunning
Current records
The Compet-N records for the episode are:
Ad blocker interference detected!
Wikia is a free-to-use site that makes money from advertising. We have a modified experience for viewers using ad blockers

Wikia is not accessible if you've made further modifications. Remove the custom ad blocker rule(s) and the page will load as expected.