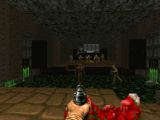 Infinity (INFINITY.WAD) is a Doom episode replacement mod of eight levels, created by Bjorn Hermans and Holger Nathrath. As part of their 10 Years of Doom feature, Doomworld named it one of the ten best WADs of 1995.
The WAD replaces episode 1 of the game.
Levels
Soundtrack
E1M1: "Echoes.mid"
E1M2: "Donna Lee" by Miles Davis
E1M3: "Beat it" by Michael Jackson
E1M4: "Everybody Dance Now [Gonna make you Sweat]" by C+C Music Factory
E1M5:
E1M6: "Jump" by Van Halen
E1M7: "Too Funky" by George Michael
E1M8: "End Title Theme of Blade Runner" by Vangelis
Title Music: "Terminator 2 Theme" by Brad Fiedel
Intermission Music: "Halloween Theme" by John Carpenter
Text Music:
Sources
External links
Ad blocker interference detected!
Wikia is a free-to-use site that makes money from advertising. We have a modified experience for viewers using ad blockers

Wikia is not accessible if you've made further modifications. Remove the custom ad blocker rule(s) and the page will load as expected.