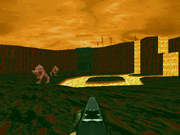 This level occupies the map slot MAP01. For other maps which occupy this slot, see Category:MAP01.
MAP01: Dig is the first map of UAC Ultra. It uses a music track from Abuse.
Walkthrough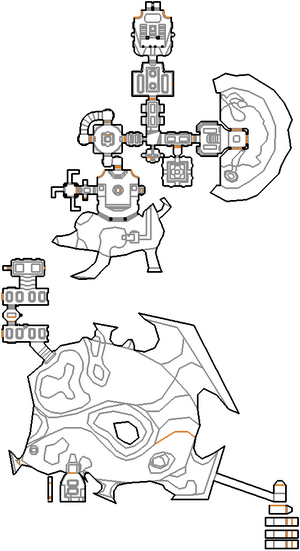 Letters in italics refer to marked spots on the map. Sector numbers in boldface are secrets which count toward the end-of-level tally.
Essentials
Other points of interest
Secrets
In the penultimate room of the level, walk through the lava flowing in the center of the room to get megaarmor. (sector 328)
Bugs
Demo files
Areas / screenshots
Speedrunning
Routes and tricks
Current records
The records for the map at the Doomed Speed Demos Archive are:
Miscellaneous demos
| Run | Time | Player | Date | File | Notes |
| --- | --- | --- | --- | --- | --- |
| | | | | .zip | |
Deathmatch
Statistics
Map data
Things
This level contains the following numbers of things per skill level:
Technical information
Inspiration and development
This map features half-and-half development. The first half of the map was created by Jon Vail. Everything beyond the door that was activated by the floor switch and beyond the yellow key door was created by Super Jamie. The room beyond the yellow door was added shortly before the release of UAC Ultra. Its shape is a homage to the room with the armor in Doom E1M1: Hangar.
Trivia
In the room beyond the yellow door, if you look out the window to the north, you can see Daisy's impaled head on the mountainous terrain, as seen in the ending of Inferno.
On linedef 717, the computer terminal has some computer monitors on it. The one in the top left corner reads "Watchmaker" in orange letters. This is a reference to Watchmaker, one of Jon Vail's many favorite bands. Just under that monitor, is another one with a white symbol. The symbol is an inverted peace sign which is the logo of the band Trash Talk and is also the album art of Trash Talk's self-titled album. On Linedef 712, the computer monitor has red text that is difficult to read, but in its original font size it reads "take control-- the only control-- you'll ever have--" before it resized to fit in the computer's screen. This is a lyrical reference to the song "Pulling Teeth" by the band Left For Dead which is one of Jon Vail's many favorite bands. The song is in their only album: "Splitting Heads" These same computer monitors can be found in many other locations in UAC Ultra.
See also
Sources
External links
Ad blocker interference detected!
Wikia is a free-to-use site that makes money from advertising. We have a modified experience for viewers using ad blockers

Wikia is not accessible if you've made further modifications. Remove the custom ad blocker rule(s) and the page will load as expected.