MAP01: System Control (TNT: Evilution)
Talk

2
3,232pages on
this wiki
This level occupies the map slot MAP01. For other maps which occupy this slot, see Category:MAP01.
MAP01: System Control is the first map of TNT: Evilution. It was designed by Tom Mustaine. It is set inside of a very small techbase, and, as the first level, is simple to complete. Leo Sieben composed the well known music (named "Sadistic") for this level.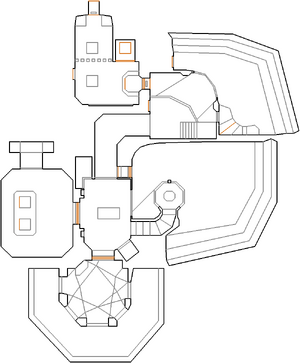 Letters in italics refer to marked spots on the map. Sector numbers in boldface are secrets which count toward the end-of-level tally.
Walkthrough
Edit
Enter the door. Cross the hallway (A) until you arrive at a dead-end with a raised platform (B). Hit the switch and climb the new stairs towards the walkway. Go to the blue door (C), which will open another door in the southeast, and head through the newly-opened doorway (D). Eliminate the Imps in front of the switch (E) and flip it. Go back inside, down the stairs towards the entrance room, and grab the blue key (F). Retrace your steps towards the blue door, dispatch the Imp inside, and flip the switch (G). You will slowly descend into another room. Flip the western switch to remove the barrier (H), and hit the northern switch to exit the level.
In the western room with the two computer pillars (I), press the button on the southern pillar to open a door leading outside to the east. Head out to find a stimpack, a few Imps, and a shotgun (sector 52).
Non-official
Edit
System Control was one of the maps Tom Mustaine submitted for inclusion in the Master Levels. While it got rejected by Shawn Green for being "too small", another one of Mustaine's maps got included; Paradox.
Demo files
Edit
Screenshots
Edit
Speedrunning
Edit
Routes and tricks
Edit
Current records
Edit
The Compet-N records for the map are:
Miscellaneous demos
Edit
| Run | Time | Player | Date | File | Notes |
| --- | --- | --- | --- | --- | --- |
| | | | | .zip | |
Deathmatch
Edit
Statistics
Edit
Technical information
Edit
Inspiration and development
Edit
External links
Edit