This level occupies the map slot MAP03. For other maps which occupy this slot, see Category:MAP03.
Virgil's Lead is a map that is part of the Master Levels for Doom II. It was designed by John W. "Dr. Sleep" Anderson, and is contained in the file VIRGIL.WAD. This map was simply titled/known as "Virgil" in the Sony PlayStation version of Final Doom.
Strategy
Walkthrough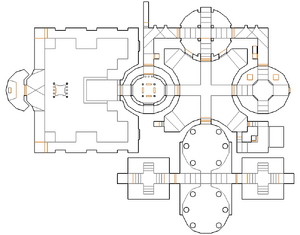 Letters in italics refer to marked spots on the map. Sector numbers in boldface are secrets which count toward the end-of-level tally.
Secrets
Official
At the northeast part of the map there are two round-shaped rooms, the eastern one needs the yellow key to open. Halfway, one of the walls very close to the door can be opened. This wall reveals a switch for a small lift which conceals a Megasphere and another switch. (sector 192)
Non-official
The hidden switch mentioned above (the one hidden behind the megasphere) opens the northeast portion of the previous big roundish room (the one where you get the yellow skullkey), this portion has an invisibility sphere.
Bugs
Demo files
Areas / screenshots
Speedrunning
Routes and tricks
Current records
The records for the original map on the Doomed Speed Demos Archive are:
Deathmatch
Statistics
Map data
Things
Technical information
Inspiration and development
Trivia
See also
Sources
External links
Ad blocker interference detected!
Wikia is a free-to-use site that makes money from advertising. We have a modified experience for viewers using ad blockers

Wikia is not accessible if you've made further modifications. Remove the custom ad blocker rule(s) and the page will load as expected.