This level occupies the map slot MAP04. For other maps which occupy this slot, see Category:MAP04.
MAP04: Alpha Base is the fourth map of Mars War by Nathan Lineback. It uses a MIDI conversion of a tracker module of unknown origin.
Walkthrough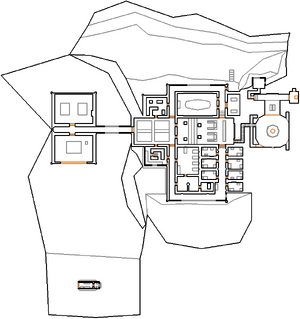 Letters in italics refer to marked spots on the map. Sector numbers in boldface are secrets which count toward the end-of-level tally.
Essentials
Other points of interest
Secrets
To the southeast of the blue key, there is a door leading into a flight of stairs. Head down the stairs, and you will enter a room with a supercharge in a core and a T-section to the north. Activate the switch at the south, head into the T-section, and face east to find an open doorway leading to megaarmor. (sector 127) Stepping into the secret will cause the eastern corners of the previous room to lower, bearing imps, while grabbing the megaarmor will result in a teleporter opening nearby. Enter it to be teleported to the supercharge; grab it and step off the core to return.
The switch which opens secret #1 will also open the door across from it. Head west in the T-section, take the lift, and head through the passage to find a stimpack, two medikits, five armor bonuses, and partial invisibility. (sector 154) Nearby is a small doorway leading into the north of the map.
Bugs
Demo files
Areas / screenshots
Speedrunning
Routes and tricks
Current records
The current records for the map at the Doomed Speed Demos Archive are:
Miscellaneous demos
| Run | Time | Player | Date | File | Notes |
| --- | --- | --- | --- | --- | --- |
| | | | | .zip | |
Deathmatch
Statistics
Map data
Things
This level contains the following numbers of things per skill level:
Technical information
Inspiration and development
Trivia
See also
Sources
External links
Ad blocker interference detected!
Wikia is a free-to-use site that makes money from advertising. We have a modified experience for viewers using ad blockers

Wikia is not accessible if you've made further modifications. Remove the custom ad blocker rule(s) and the page will load as expected.