This level occupies the map slot MAP04. For other maps which occupy this slot, see Category:MAP04.
MAP04: Deja Vu is the fourth map of Community Chest 2. It was designed by Gene Bird, and was originally released standalone as part of his Blind Alley series.
Walkthrough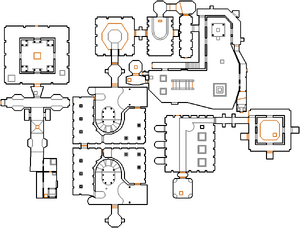 Letters in italics refer to marked spots on the map. Sector numbers in boldface are secrets which count toward the end-of-level tally.
Essentials
Other points of interest
Secrets
To the east of the well where the red key is found is a misaligned wall. Open it to find a cell, a box of shells, a box of rockets, a rocket launcher, and a backpack. (sector 183)
In the room immediately following the yellow door, there is a section of the northern wall not covered in grime. Open it to find a teleporter. (sector 134)
Enter the teleporter in secret #2 to reach the stone tower outside, where you can get two medikits and a soul sphere. (sector 130)
In the corridor around the gray platform in the east, a section of the west wall has vertical bands on it. Open it to find a medikit, a box of ammo, and a bulk cell.
Another similar alcove can be found in the south of the area, where you can get a medikit, a box of ammo, a box of shells, and a box of rockets. (sector 176)
Another wall with vertical bands on it can be found in the east side, but does not open when pressed on. After flipping the switch at the end of the hall, return to this area to find a cell, a plasma rifle, and a megasphere. (sector 177)
Bugs
Demo files
Areas / screenshots
Speedrunning
Routes and tricks
Current records
The records for the map on the Doomed Speed Demos Archive are:
Miscellaneous demos
| Run | Time | Player | Date | File | Notes |
| --- | --- | --- | --- | --- | --- |
| | | | | .zip | |
Deathmatch
Statistics
Map data
Things
Technical information
Inspiration and development
Trivia
See also
Sources
External links
Ad blocker interference detected!
Wikia is a free-to-use site that makes money from advertising. We have a modified experience for viewers using ad blockers

Wikia is not accessible if you've made further modifications. Remove the custom ad blocker rule(s) and the page will load as expected.