This level occupies the map slot MAP05. For other maps which occupy this slot, see Category:MAP05.
MAP05: Autumn in Hell is the fifth map of Congestion 1024. It was designed by Ray Schmitz (shitbag).
Walkthrough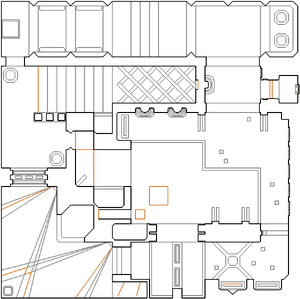 Letters in italics refer to marked spots on the map. Sector numbers in boldface are secrets which count toward the end-of-level tally.
Essentials
Other points of interest
Secrets
At the southeast of the level, one of the skin panels is cut and bloody. Push it, and it will lower to reveal a backpack. (sector 38)
Southwest of the teleporter is a hole in the wall. Deep within this hole is a switch. Shoot the switch, and a pillar will rise from the nukage just in front of the hole, which functions like an elevator once it stops moving. Use this pillar to access an alcove containing 4 shotgun shells, a box of bullets and a medikit. (sector 59)
To the east of the red key, approach the stairs, and the wall will lower in front of you, allowing access to a health bonus, a clip and 4 shotgun shells. (sector 129)
Bugs
This level does not contain a Player 3 start position, preventing cooperative multiplayer games from being played with three players or more. On the other hand, there are two Player 2 start positions, potentially causing a voodoo doll to be generated to the left of player 1.
The backpack in secret #1 can be obtained without lowering the panel by straferunning at it from the opposite wall.
The switch found at the top of the building stairs (linedef 889) has a garbled texture. This is a nodebuilding error caused by the then-current version of ZDBSP, which occasionally did not write a level's SEGS data correctly.
Demo files
Areas / screenshots
Speedrunning
Routes and tricks
Current records
The records for the map at the Doomed Speed Demos Archive are:
Miscellaneous demos
| Run | Time | Player | Date | File | Notes |
| --- | --- | --- | --- | --- | --- |
| | | | | | |
Deathmatch
Statistics
Map data
Things
This level contains the following numbers of things per skill level:
Technical information
Inspiration and development
Trivia
See also
Sources
External links
Ad blocker interference detected!
Wikia is a free-to-use site that makes money from advertising. We have a modified experience for viewers using ad blockers

Wikia is not accessible if you've made further modifications. Remove the custom ad blocker rule(s) and the page will load as expected.