This level occupies the map slot MAP05. For other maps which occupy this slot, see Category:MAP05.
MAP05: Crimson Tide is the fifth map of the megawad Alien Vendetta. It was designed by Anders Johnsen and constructed with DETH. It uses the music track "The End of DOOM," the text screen music from Doom.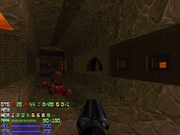 Description
Strategy
Walkthrough
Secrets
While facing the window the yellow skull key rests on, turn right 90 degrees. There is a very obvious square section of wall that is receded and has a different texture than the surrounding walls. Open it to gain access to a combat armor vest and a soul sphere.
Speedrunning
See:
Statistics
Map data
Things
Ad blocker interference detected!
Wikia is a free-to-use site that makes money from advertising. We have a modified experience for viewers using ad blockers

Wikia is not accessible if you've made further modifications. Remove the custom ad blocker rule(s) and the page will load as expected.