This level occupies the map slot MAP05. For other maps which occupy this slot, see Category:MAP05.
MAP05: Pumping Station 083A is the fifth map of Whispers of Satan. It was designed by Kristian Aro, and uses the music track "Rock and Load" by Paul Corfiatis.
Walkthrough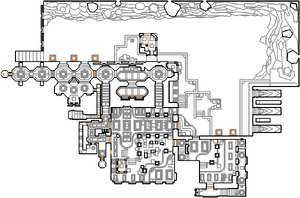 Letters in italics refer to marked spots on the map. Sector numbers in boldface are secrets which count toward the end-of-level tally.
Essentials
Other points of interest
Secrets
Starting the level, take the west path from you, ignoring the down stairs, and open the door. Flip the switch (not the one requiring the red keycard), enter the tiny door it opens, go down the stairs completely, turn back and you will see that a small closet has opened at the far wall, containing a chaingunner. Kill him and quickly enter the closet before it closes again to get a berserker. Note: this secret triggers only once, if it is missed, it won't be possible to acheive 100% secret score.
A bit south of the northwest door of the "warehouse" (the huge indoor room full of crates, ladders and enemy ambushes) there is a small grey panelling on a wall. Activating this panelling reveals a switch. Throw this switch, then quickly return through the nearby door, go forward, turn right and you will see that one corner of the room is now opened for a limited time. Enter through this opening to access a closet with health bonuses and a plasma gun.
Bugs
Demo files
Areas / screenshots
Speedrunning
Routes and tricks
Current records
Miscellaneous demos
Deathmatch
Statistics
Map data
Things
Technical information
Inspiration and development
Trivia
See also
Sources
External links
Ad blocker interference detected!
Wikia is a free-to-use site that makes money from advertising. We have a modified experience for viewers using ad blockers

Wikia is not accessible if you've made further modifications. Remove the custom ad blocker rule(s) and the page will load as expected.