This level occupies the map slot MAP06. For other maps which occupy this slot, see Category:MAP06.
Dreamscape is the sixth map of Speed of Doom. It was designed by Darkwave0000 and uses the track Lastday BGM from The Legend of Zelda: Majora's Mask. The par time is unknown.
Walkthrough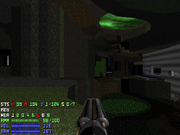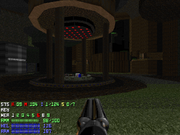 The green nukage is harmless, but not the brown one.
Essentials
Other points of interest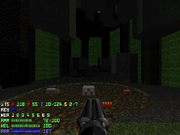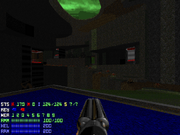 Secrets
Down the lift, go right in the crate room, find the switch (linedef #1999) that opens a crate with an energy cell pack.
Nearby, south in the L-shaped blue corridor, archie-jump through the window down in the blue room.
South east, just when you enter the long corridor with lone health bonuses and revenants on your right, turn back and find a computer area map and a partial invisibility.
When you grabbed the trapped blue key, the nearest wall that opens and shows various monsters AND an arachnotron has a clickable wall. Go down and see the pillar with a supercharge.
There, use the left wall to go down and reveal a megaarmor.
After the blue door, where grates cover the brown slime, go on your left, open the door, use the switch and run.
When you grab the red key, instead of turning back or falling down, jump on your left, fight barons of hell and hell knights with your reward: the backpack, the BFG9000 and cells.
Bugs
Demo files
Areas / screenshots
Speedrunning
Routes and tricks
Current records
The Compet-n records for the map are:
Miscellaneous demos
| Run | Time | Player | Date | File | Notes |
| --- | --- | --- | --- | --- | --- |
| | | | | .zip | |
Deathmatch
Statistics
Map data
Things
Technical information
Inspiration and development
Trivia
See also
Sources
External links
Ad blocker interference detected!
Wikia is a free-to-use site that makes money from advertising. We have a modified experience for viewers using ad blockers

Wikia is not accessible if you've made further modifications. Remove the custom ad blocker rule(s) and the page will load as expected.