This level occupies the map slot MAP06. For other maps which occupy this slot, see Category:MAP06.
MAP06: Foregone Destruction is the sixth map of Community Chest 3. It was designed by Daniel Gimmer (Tormentor667) and uses the Duke Nukem 3D music track "Taking the Death Toll." It is the author's first and only Boom level.
Walkthrough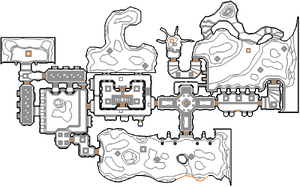 Letters in italics refer to marked spots on the map. Sector numbers in boldface are secrets which count toward the end-of-level tally.
Essentials
Other points of interest
Secrets
At the southernmost part of the level, there is a pillar bearing a super shotgun. At the northwest of the area is a switch on the east side of the building. Press the switch to lower the pillar, and then run onto the pillar before it rises to get the super shotgun and trigger this secret. (sector 1049)
To the south of the building containing the red skull key, one of the bookshelves appears brighter than the others. Push it to lower it, revealing a box of rockets. (sector 1064)
Beyond the red door, the southeast side of the building to the west features a patch with more prominent gaps between bricks than the rest of the wall. Press on it to lower it, allowing access to 12 health bonuses, two rockets, and a rocket launcher. (sector 641)
Bugs
Demo files
Areas / screenshots
Speedrunning
Routes and tricks
Current records
There are currently no records for the map at the Doomed Speed Demos Archive.
Miscellaneous demos
Deathmatch
Statistics
Map data
Things
This level contains the following numbers of things per skill level:
Technical information
Inspiration and development
At the start of the project, the MAP06 slot was occupied by Black Void, while MAP27 was occupied by Gimmer. Because of a death in the family, Black Void had to drop out of the project on May 23, 2007. The MAP06 slot was subsequently occupied by Gimmer on June 9, 2007, leaving the MAP27 slot vacant. Two days later, the MAP27 slot would be taken by Eric Baker (The Green Herring), who would contribute MAP27: Ruby Abyss to the project.
This level started development on June 9, 2007, and was completed in only three days. Upon its completion on June 11, 2007, the level was briefly released to the public by mistake, but was subsequently removed and submitted privately.
Trivia
Foregone Destruction is also the title of a music track in Unreal Tournament, best known for it's use in CTF_Face map
See also
Sources
External links
Ad blocker interference detected!
Wikia is a free-to-use site that makes money from advertising. We have a modified experience for viewers using ad blockers

Wikia is not accessible if you've made further modifications. Remove the custom ad blocker rule(s) and the page will load as expected.