MAP06: Temple Entryway (Scythe 2)
Talk

0
3,233pages on
this wiki
This level occupies the map slot MAP06. For other maps which occupy this slot, see Category:MAP06.
MAP06: Temple Entryway is the sixth map of the megawad Scythe 2. It was designed by Erik Alm and uses a music track from the first-person shooter Blood. It is the first map of the Egyptian episode, the second one in Scythe 2.
Description
Edit
[[Image: |thumb|300px|Map of **]]

Walkthrough
Edit
Use the berserk wisely!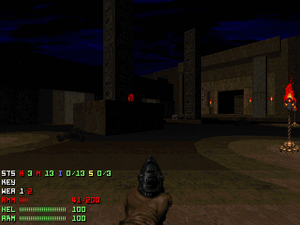 As you start the map and fall/jump down to the big area, go into the Temple until you reach a big room, once there keep going forward until you're at a Red door and to your left a staircase going up and to your right is a small candle on the floor next to the wall, that wall is fake and u can open it (Reward:Health bonuses,Chaingun)
From where 1 left off, go up the stairs and keep going until you reach the start where you began the map you will notice that a wall has lowered (Reward: Blue Armor)
This one is alittle bit tricky, once u land on the platform with the Red keycard quickly run to the Temple you will see that a wall has lowered to your right once ur in the small dark hallway at the Temple entrance you need to act fast and go in it before the wall closes (Reward: Super Shotgun)
Speedrunning
Edit
See:
Routes and Tricks
Edit
Statistics
Edit
External links
Edit