This level occupies the map slot MAP07. For other maps which occupy this slot, see Category:MAP07.
MAP07: To Hell and Back is the seventh map of Community Chest 2. It was designed by Ian "The Flange Peddler" Cunnings.
It begins in a techbase, until the player enters a portal, upon which they are whisked away to a structure in Hell filled with a yellow haze. The final key must be found in this location before you can return and exit the map.
Walkthrough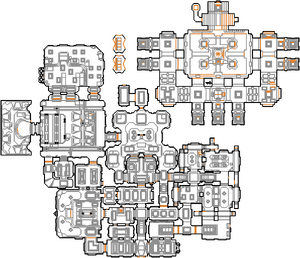 Letters in italics refer to marked spots on the map. Sector numbers in boldface are secrets which count toward the end-of-level tally.
Essentials
Other points of interest
Secrets
On the gray border east of the crates in the first room, the light shining onto the northeast and southeast corners when you go through either one of the two, northern doorways is a single sector. (sector 189) This generalized sector is marked as both a secret and a damaging floor for no apparent reason. Unfortunately, the sector is close to the ledge and is too small for the secret to be registered by the player, making 100% secrets impossible unless the noclip cheat is used.
Also in the first room, there is security armor sitting behind a wide crate and a stack of crates. Once you get onto the walkway east of them, drop down there to trigger the secret. (sector 302) The crate stack will lower a moment later, allowing you to leave. Secret #1 can also be triggered from this location.
At the southwest of the map, entering the southern passage in the green-walled room will cause a computer panel in the northern, adjacent room to briefly lower. Quickly run in there to find a switch, flip it, and quickly run onto the lift that lowers directly nearby. You will find a plasma rifle, and (on Hurt Me Plenty or higher) two cells. (sector 124)
At the pit in Hell, the wall opposite the teleporter can be walked through. It leads into a secret passage (sector 851) containing a soul sphere, and another teleporter back to the beginning of the segment.
Bugs
Demo files
Areas / screenshots
Speedrunning
Routes and tricks
Current records
The records for the map on the Doomed Speed Demos Archive are:
Miscellaneous demos
| Run | Time | Player | Date | File | Notes |
| --- | --- | --- | --- | --- | --- |
| | | | | .zip | |
Deathmatch
Statistics
Map data
Things
Technical information
Inspiration and development
Trivia
The special effect for the transition between the techbase and Hell would later resurface as the introduction to Community Chest 3 MAP24: Amalgamation, albeit without the yellow haze.
See also
Sources
External links
Ad blocker interference detected!
Wikia is a free-to-use site that makes money from advertising. We have a modified experience for viewers using ad blockers

Wikia is not accessible if you've made further modifications. Remove the custom ad blocker rule(s) and the page will load as expected.