This level occupies the map slot MAP09. For other maps which occupy this slot, see Category:MAP09.
MAP09: Valley of the Queen is the ninth map of the megawad Scythe 2. It was designed by Erik Alm and uses the music track "Temple of Nefertum" from Hexen II.
Strategy
Walkthrough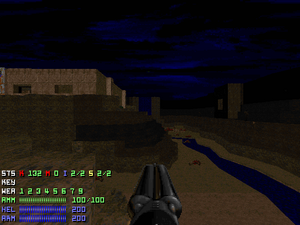 Secrets
Viewed from the starting area, on the far right there is a waterfall which you can go through (Reward: Bulk cell and a Plasma Rifle).
Follow the water to the left of the starting area until you reach a cave entrance. Enter the cave and follow the passageway until you are on a ledge where imps and a Berserk Pack can be found. Don't jump down straight; explore the narrower ledges instead until you find a waterfall. Now follow it down the ledges carefully (Reward: Super Shotgun and a Box of Shells).
Speedrunning
Routes and tricks
Records
The Compet-N records for the map are:
Statistics
Map data
Things
Trivia
See also
External links
Ad blocker interference detected!
Wikia is a free-to-use site that makes money from advertising. We have a modified experience for viewers using ad blockers

Wikia is not accessible if you've made further modifications. Remove the custom ad blocker rule(s) and the page will load as expected.