This level occupies the map slot MAP10. For other maps which occupy this slot, see Category:MAP10.
MAP10: Skagway is the tenth map of UAC Ultra. It uses the music track "Astral Dreadnought" by James Paddock, which originally appeared on MAP10 of Plutonia 2.
Walkthrough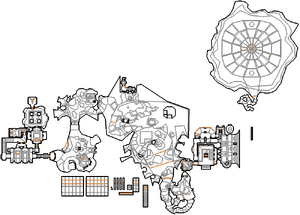 Letters in italics refer to marked spots on the map. Sector numbers in boldface are secrets which count toward the end-of-level tally.
Essentials
This map can be nearly incompletable on cooperative settings if all the radiation suits are used up due to the large amount of damaging floors. Thankfully, once the high radiation canyon area of Skagway has been completed, a teleport pad opens near the starting room which will teleport respawning players to the subsequent parts of the map beyond the canyon area. If the radiation suits are used up, players will need to utilize speedrunning behaviours such as wallrunning and straferunning in order to reach the end of the canyon before dying of radiation exposure.
Other points of interest
Secrets
Bugs
Demo files
Areas / screenshots
Speedrunning
Routes and tricks
Current records
The records for the map at the Doomed Speed Demos Archive are:
Miscellaneous demos
| Run | Time | Player | Date | File | Notes |
| --- | --- | --- | --- | --- | --- |
| | | | | .zip | |
Deathmatch
Statistics
Map data
Things
This level contains the following numbers of things per skill level:
Technical information
Inspiration and development
This map had undergone drastic changes, particularly in the outdoor canyon area. Some screenshots which can still be found in the UAC Ultra development thread at Doomworld Forums show parts of the map that had been deleted completely. This was mainly due to the natural rocky terrain that was designed for it did not accomodate to the exciting slaughter-like gameplay that was later planned for it. Attempts to manipulate the area to correspond with the style of play that was desired offered less than satisfactory results, and thus the entire canyon had been erased and redone from scratch. Jon Vail did a majority of the mapping though Super Jamie is creditted to assembling much of the monster and item placement for this map.
Trivia
On linedef 4469, there is a texture on the wall that has a message violently scribbled on it that reads, "Digital Dogs with Analog Collars." This is is a song title from the band Trap Them, which is one of Jon Vail's many favorite bands, on the album Sleepwell Deconstructor. The full title is "Day Seven: Digital Dogs With Analog Collars."
See also
Sources
External links
Ad blocker interference detected!
Wikia is a free-to-use site that makes money from advertising. We have a modified experience for viewers using ad blockers

Wikia is not accessible if you've made further modifications. Remove the custom ad blocker rule(s) and the page will load as expected.