This level occupies the map slot MAP11. For other maps which occupy this slot, see Category:MAP11.
MAP11: Beyond Pain is the eleventh map of Community Chest 2. It was designed by Dennis "Exl" Meuwissen, who is miscredited as "Exile" in both the megawad's text file and the map's intermission screen title graphic.
Walkthrough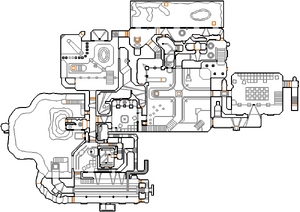 Letters in italics refer to marked spots on the map. Sector numbers in boldface are secrets which count toward the end-of-level tally.
Essentials
Other points of interest
Secrets
In the sewer area at the northeast of the map, there is a lion switch on the eastern wall, bordered by blue lights. Flip it, and return to the center of the map to find that the barriers surrounding the western teleporter have lowered. Enter it to be taken to a rock formation. (sector 423) Jump to the west to get a medikit and combat armor, and go to the lake at the east to get a soul sphere.
Beyond the steel bars to the northwest of where you get the red keycard is a white teleporter pad. This pad can also be reached by using the teleporter to the south of the blue keycard. In any case, teleport to this location (if you're in the same room, enter it, then go back into the teleporter you landed on,) and then run south over the wall surrounding it. The demonic face behind it will open to reveal a megasphere. (sector 430)
Bugs
The lake east of secret #1 does not appear to have been built correctly. There is a "surface" sector and a "bottom" sector, as if it were to use the vanilla Doom deep water effect, but the bottom sector's linedefs do not reference it on both sides, and they are untextured; as a result, the surface level's floor texture bleeds over the sides while leaving the bottom sector's floor untouched. It is possible that this was originally constructed properly, but during compilation, it was mistaken for an error and "corrected."
Demo files
Areas / screenshots
Speedrunning
Routes and tricks
Current records
The Compet-N records for the map are:
Miscellaneous demos
| Run | Time | Player | Date | File | Notes |
| --- | --- | --- | --- | --- | --- |
| | | | | .zip | |
Deathmatch
Statistics
Map data
Things
Technical information
Inspiration and development
Trivia
See also
Sources
External links
Ad blocker interference detected!
Wikia is a free-to-use site that makes money from advertising. We have a modified experience for viewers using ad blockers

Wikia is not accessible if you've made further modifications. Remove the custom ad blocker rule(s) and the page will load as expected.