This level occupies the map slot MAP11. For other maps which occupy this slot, see Category:MAP11.
MAP11: Terror Core is the eleventh map of Doom 64. The sky is a purple dark storm like sky. The goal to this level is connecting bridges, fighting lots of Hell knights and unlocking keys. The environment is set in some castle gardens which have demonic decorations. Unpredictable sounds of thunder playing are sure to strike terror in the core of those who play it, along with the various ambushes. The music for this level is a dark, creepy atmospheric sound similar to the music in MAP09: Even Simpler.
100% Completion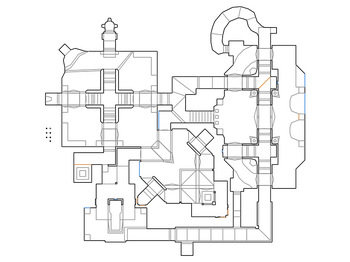 Enemies
zombies
imps
nightmare imps
demons
spetres
lost souls
cacodemons
hell knights
barons of hell
Items
Secrets
Ad blocker interference detected!
Wikia is a free-to-use site that makes money from advertising. We have a modified experience for viewers using ad blockers

Wikia is not accessible if you've made further modifications. Remove the custom ad blocker rule(s) and the page will load as expected.