This level occupies the map slot MAP11. For other maps which occupy this slot, see Category:MAP11.
MAP11: The Grieving Outpost is the eleventh map of Community Chest 3. It was designed by Burke Hill (Kirby), and uses the music track "Kitchen Ace (and Taking Names)" from Doom. It makes use of the GothicDM texture set, and is noticeably smaller than other levels in the megawad.
Walkthrough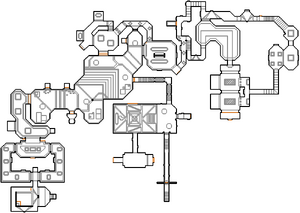 Letters in italics refer to marked spots on the map. Sector numbers in boldface are secrets which count toward the end-of-level tally.
Essentials
Other points of interest
Secrets
In the hallway leading to the west side of where the blue key is found, there is a section of the west wall bordered by thin strips of rusted metal. Open it to get 4 shotgun shells and a rocket launcher. (sector 568)
When you open the barrier blocking the exit, an alcove containing enemies will open behind you. At the rear end of this alcove is a a column of brown panels bordered by rusted metal. Open it to find a switch. Push it, and head back near the exit to find that you now have access to a switch at the east end. (sector 479) Activate this switch to lower the pillar to the west like a lift, enabling access to a rocket launcher.
Bugs
The doors in front of which players 3 and 4 start the level in cooperative multiplayer (linedefs 1563 and 1766) are switch-activated doors without tags. Unless the game is running in a ZDoom-based source port, neither player will be able to escape their confinement when the level begins.
Demo files
Areas / screenshots
Speedrunning
Routes and tricks
Current records
There are currently no records for the map at the Doomed Speed Demos Archive.
Miscellaneous demos
Deathmatch
Statistics
Map data
Things
This level contains the following numbers of things per skill level:
Technical information
Inspiration and development
Trivia
See also
Sources
External links
Ad blocker interference detected!
Wikia is a free-to-use site that makes money from advertising. We have a modified experience for viewers using ad blockers

Wikia is not accessible if you've made further modifications. Remove the custom ad blocker rule(s) and the page will load as expected.