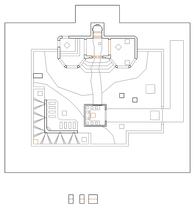 This level occupies the map slot MAP12. For other maps which occupy this slot, see Category:MAP12.


MAP12: Walk in the Park is the twelfth map of the megawad Scythe. It was designed by Erik Alm and uses the music track "Briefing - from Descent 2". It is the second map of the second episode.
Strategy
Walkthrough
A Video Playtrough of "Map12: Walk in the Park"
Secrets
Once you get the Red skull key and go to the outside area, go to your left and you should see a Chaingun some where there, simply pick it up.
Near the Blue skull key area, there is a brown tower with faces on each 4 side, check all four sides with your "use/open" key as one of them is a switch that lowers the Soul sphere that is located on top of the tower for you.
Speedrunning
Routes and tricks
Records
The Compet-N records for the map are:
Statistics
Map data
Things
Trivia
External links
Ad blocker interference detected!
Wikia is a free-to-use site that makes money from advertising. We have a modified experience for viewers using ad blockers

Wikia is not accessible if you've made further modifications. Remove the custom ad blocker rule(s) and the page will load as expected.