This level occupies the map slot MAP16. For other maps which occupy this slot, see Category:MAP16.
MAP16: Mutual Destruction is the sixteenth map of Alien Vendetta. It was designed by Brad Spencer and uses the music track "Waltz of the Demons" from Doom.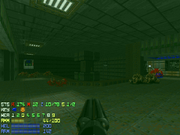 Strategy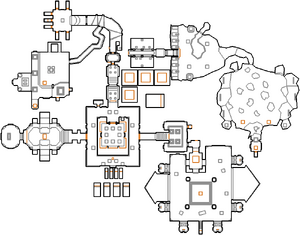 Walkthrough
Secrets
Proceed through the door at the start and into a square-shaped corridor with an exit corridor to the north. When you start walking down the north corridor, you can hear a lift lower behind you. Run back into the square-shaped hallway and you can see that the door to the left of the opening to the north hall has opened. Behind it is a secret area with a backpack and a rocket launcher.
Immediately after passing through the teleporter in the crate room with six switches, turn around and open the wall with the lightning bolt on it. Inside is a soul sphere.
Speedrunning
Routes and tricks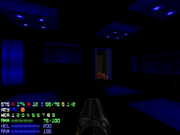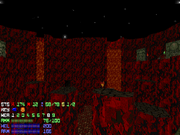 Records
The Compet-N records for the map are:
Statistics
Map data
Things
Trivia
See also
External links
Ad blocker interference detected!
Wikia is a free-to-use site that makes money from advertising. We have a modified experience for viewers using ad blockers

Wikia is not accessible if you've made further modifications. Remove the custom ad blocker rule(s) and the page will load as expected.