MAP18: Neurosphere (The Plutonia Experiment)
Talk

1
This level occupies the map slot MAP18. For other maps which occupy this slot, see Category:MAP18.
MAP18: Neurosphere is the eighteenth map of The Plutonia Experiment. It uses the music track "Demons On The Prey" from Doom. In its visual theme and architecture, this level is similar to MAP14: The Inmost Dens from Doom II.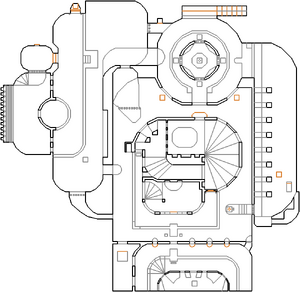 Walkthrough
Edit
In the central building is a circular blood pool in front of a baron-faced wall. Follow the stairway to the left up, and continue along the path and down another set of stairs. At the bottom of the stairs, do a u-turn left and you will be at a doorway leading outside. You should see a gray brick "railing" surrounding the lower pathway outside. Run onto the top of the railing from the doorway you are standing in and turn around. There is an alcove in the wall just left of the doorway you came from; run into it from the railing to get the megasphere (and, on hard skill only, the BFG9000) inside.
You will get a Visplane overflow in Vanilla Final Doom v1.9 if you stand on the easternmost platform of Sector 87 (the 4 lifts with the chaingunners in the south of the map) and look north west.
Screenshots
Edit
Speedrunning
Edit
Routes and tricks
Edit
The Compet-N records for the map are:
Statistics
Edit
External links
Edit