This level occupies the map slot MAP20. For other maps which occupy this slot, see Category:MAP20.
MAP20: Enigma is the twentieth map of Community Chest 2. It was designed by Ian "The Flange Peddler" Cunnings, and uses the music track "Sign of Evil" from Doom.
Walkthrough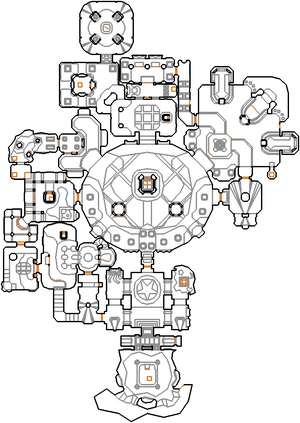 Letters in italics refer to marked spots on the map. Sector numbers in boldface are secrets which count toward the end-of-level tally.
Essentials
Other points of interest
Secrets
Bugs
Because of a teleporter being too high to reach, you can only get 80% Secrets outside of ZDoom-based ports.
It is possible to skip the bars opened by the yellow key (sector 216) with a strafejump (see Routes and tricks), and gain access to the switch raising the exit bridge (linedef 1687) before you are intended to. However, if you then lower the water level of the blood (linedef 2964) to open access to the red key that will open the exit, the exit bridge will drop with it. Because linedef 1687 is one-time-use only, this will render the level unwinnable.
Demo files
Areas / screenshots
Speedrunning
Routes and tricks
Current records
The records for the map on the Doomed Speed Demos Archive are:
Miscellaneous demos
Deathmatch
Statistics
Map data
Things
Technical information
Inspiration and development
Trivia
See also
Sources
External links
Ad blocker interference detected!
Wikia is a free-to-use site that makes money from advertising. We have a modified experience for viewers using ad blockers

Wikia is not accessible if you've made further modifications. Remove the custom ad blocker rule(s) and the page will load as expected.