MAP20: Mountain Depot (Memento Mori)
Talk

0
3,339pages on
this wiki
This level occupies the map slot MAP20. For other maps which occupy this slot, see Category:MAP20.
MAP20: Mountain Depot is the twentieth level of Memento Mori. It was designed by Scott Lampert <scott@lampert.org>, and uses the music track "Terror" by Mark Klem.
Walkthrough
Edit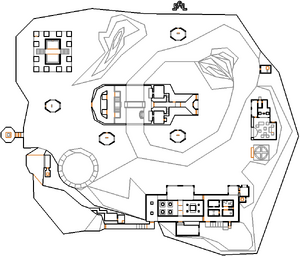 Letters in italics refer to marked spots on the map. Sector numbers in boldface are secrets which count toward the end-of-level tally.
Essentials
Edit
In order to get the red key in the northwest building use the green slime wall to raise the floor.
Other points of interest
Edit
There is a BFG9000 in a small room in the west. The room is blocked by three doors that are opened by switches. One switch at the eastern side of the central building, one is in the northwest building, and one is at the eastern building. There is also a teleporter that brings you from the southern building to the switch in the center of the map helping you to reach the western room before the doors close again. To get the BFG you have to perform a rocket jump. One way is to shoot at the closed door running backwards. This lifts you sufficiently to grab the BFG.
In the southern pipe room in the central building, one set of pipes in the east is arranged differently from the rest. Press on this portion of the wall to find a compartment containing a blur artifact. (sector 248)
In the Cyberdemon's cave, there is a stone passageway leading into a large stone room. (sector 195) Flip the skull switch in the southeast to unveil a compartment with a box of ammo, an armor bonus (only on Ultra-Violence or higher,) and a teleporter. The teleporter leads to another compartment; open the wall directly in front of you to access a normally caged-off area at the entrance of the cave containing a megasphere and an invulnerability. Go back into the teleporter you came from to be taken back outside of the cave.
In the building accessible beyond the red key door, there is a giant section of wall in the southern hallway covered with electronics. Open this wall to reveal a secret room with a backpack and a box of rockets. (sector 181)
Demo files
Edit
Areas / screenshots
Edit
Speedrunning
Edit
Routes and tricks
Edit
Current records
Edit
The Compet-N records for the map are:
Miscellaneous demos
Edit
| Run | Time | Player | Date | File | Notes |
| --- | --- | --- | --- | --- | --- |
| | | | | .zip | |
Deathmatch
Edit
Statistics
Edit
Technical information
Edit
Inspiration and development
Edit
See also
Edit
External links
Edit