MAP21: Administration Center (TNT: Evilution)
Talk

0
3,224pages on
this wiki
This level occupies the map slot MAP21. For other maps which occupy this slot, see Category:MAP21.
MAP21: Administration Center is the twenty-first map of TNT: Evilution. It was designed by Drake O'Brien, and uses the music track "Into Sandy's City" from Doom II.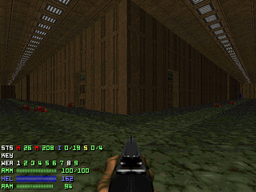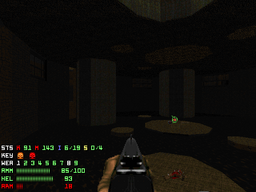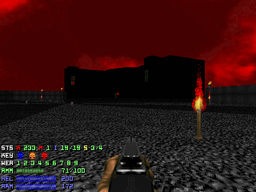 Statistics
Edit
Walkthrough
Edit
In the office building, when you enter the balcony around the center slime pit, turn right, look at the south wall and open a section marked by a standing health bonus. Inside a lava room you can find a soul sphere or medikits.
In the office building, when you get the yellow skull key on the northern lowered pillar in the slime pit, a new room becomes accessible in the western corridor. Find there a new corner marked by a picture on the wall and open it to get access to a room with a teleporter. The teleporter takes you to an L-shaped room with a ledge on western and southern sides. To get to the ledge sprint-jump from a top of the pyramid. Go through a fake wall on the eastern end of the ledge to get a BFG9000. The opposite corner of the ledge also contains some goodies behind a fake wall.
There is a green fort in the middle of the outside area. Before going out from the building, open a wall on the right from the door to find a blue armor.
The outside area is surrounded by the dark wall, of which one section is marked by blue torches. Lower this section, get an invulnerability sphere and you will find yourself on top of the nearby rock.
Non-official
Edit
In the office building, next to the room with the teleporter from Secret #2, there is a room with a square window seen from the eastern corridor. Inside you can find a megasphere. If you get the megasphere, you will be teleported to a room in the northern part of the office building, where you can find an invulnerability sphere (On Hurt Me Plenty or lower skill).
Also in the office building, in the wooden room past the blue key door, there is a teleporter that takes you to the final outdoor area. Open the corner of wall to the right of this teleporter to get a box of rockets.
It is possible to get a Visplane overflow error from the rock pillar the northeastern part of the outdoor area, looking to the southwest.
There is an unreachable box of shotgun shells in the northwestern corner of the outdoor area, on the cliff wall.
On an interesting note, in the intermission screen before starting the level, the Administration Center is reported as something that looks "pretty damned familiar", though makes no further mention on how or why. Given that the intermission screen also mentions the Doomguy's hatred of the area, this is most likely signifying the game's transition into deeper reaches of Hell's domain.
Speedrunning
Edit
Routes and tricks
Edit
The Compet-N records for the map are:
External links
Edit