MAP21: Undead Nation (Community Chest 2)
Talk

0
Share
Ad blocker interference detected!
Wikia is a free-to-use site that makes money from advertising. We have a modified experience for viewers using ad blockers

Wikia is not accessible if you've made further modifications. Remove the custom ad blocker rule(s) and the page will load as expected.
This level occupies the map slot MAP21. For other maps which occupy this slot, see Category:MAP21.
MAP21: Undead Nation is the twenty-first map of Community Chest 2. It was designed by Draconio, and uses the music track "Dark Halls" from Doom.
Walkthrough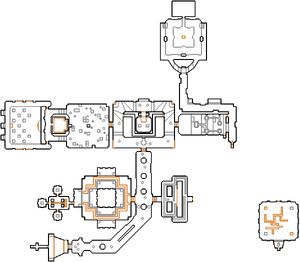 Letters in italics refer to marked spots on the map. Sector numbers in boldface are secrets which count toward the end-of-level tally.
Essentials
Other points of interest
Secrets
Right after you step off the lowering floor in the beginning, parts of the east and west walls are differently textured than the rest. Press on any of them, and two alcoves will lower, allowing access to five armor bonuses and two rockets. Both of them count as one secret. (sector 5)
At the northwest of the rectangular hall, there is a section of green wall at the east that is differently textured than the others. Open it to find a long tunnel lined with health and armor bonuses. (sector 9)
In the room where you find the red skull, one of the metal panels at the south side has a gargoyle's face on it instead of a lion's. Press it to open a closet in the west, containing six armor bonuses and four rockets. (sector 216)
While inside the southwest computer room, go up the perpetually moving platform at the far west. There, you will find a set of metal panels; one of them has a lightning bolt symbol on it. Press on it to lower a lift, and drop into the hole to find a room with two chaingunners, as well as two doors that both lead to a rocket and eight bonuses (health bonuses in the north, armor bonuses in the south.) (sector 193)
While inside secret #4, press on the middle of the west wall to find four health bonuses, four armor bonuses, and a radiation suit. (sector 202)
In the room where you find the yellow skull, one of the faces on the metal walls is a gargoyle's instead of a lion's. Press it to open up a tunnel leading to three chaingunners, nine armor bonuses, and a teleporter. (sector 214)
Enter the teleporter in secret #6 to be taken to a platform in the first hallway, on top of a soul sphere. (sector 18)
At the top of the metal hill beyond the yellow skull door, the southern wall has a skull with glowing, red eyes on it. Open it to find six health bonuses. (sector 218)
Bugs
Demo files
Areas / screenshots
Speedrunning
Routes and tricks
Current records
The records for the map on the Doomed Speed Demos Archive are:
Miscellaneous demos
| Run | Time | Player | Date | File | Notes |
| --- | --- | --- | --- | --- | --- |
| | | | | | |
Deathmatch
Statistics
Map data
Things
Technical information
Inspiration and development
Trivia
See also
Sources
External links