This level occupies the map slot MAP22. For other maps which occupy this slot, see Category:MAP22.
MAP22: Rubicon is the twenty-second map of Alien Vendetta. It was designed by Brad Spencer and uses the briefing music from Descent II's MIDI soundtrack.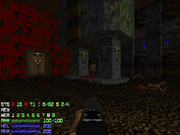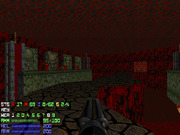 Strategy
Walkthrough
Secrets
Open the wall behind you at the start of the level to get some shells.
In the tunnel with red rock with yellow cracks, one of the walls is more of a grayish color. Lower it to get a medikit.
Facing the yellow door, turn 90 degrees left and lower the bookcase to get a cache of goodies.
In the wooden corridor behind the yellow door, there is a recessed wall with a metal strip along the bottom. Shoot it to open it, revealing a soul sphere.
Speedrunning
Routes and tricks
Records
The Compet-N records for the map are:
Statistics
Map data
Things
Trivia
See also
External links
Ad blocker interference detected!
Wikia is a free-to-use site that makes money from advertising. We have a modified experience for viewers using ad blockers

Wikia is not accessible if you've made further modifications. Remove the custom ad blocker rule(s) and the page will load as expected.